Published on 15/11/19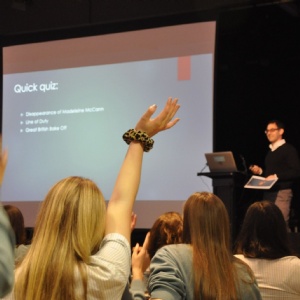 On 15 November Daniel Pearl, Channel 5's commissioning editor, spent the morning with our Year 10 and 11s talking about his journey in the television industry.
Finding his way into the industry as a political researcher where he prepped guests, researched and wrote reports, Daniel worked his way up through the ranks. Moving from On the record to BBC 2's Newsnight he became deputy editor for Newsnight meaning he had the high-pressure task of deciding the topic of the programme and organising the content that would have to be recorded and ready for airing that night.
A particular highlight is his role as editor for the first live election debate in 2010 - when he regaled the pupils with a tale of the then Prime Minister Gordon Brown being stuck in his dressing room minutes before the debate went to air!
Today Daniel is one of eight commissioning editors that have the task of deciding what airs on Channel 5.
Throughout the talk, Daniel explained to our pupils how television has changed, with streaming services now competing with traditional channels.
We would like to say thank you to Daniel for coming in and giving an engaging talk to our pupils.