There are plenty of opportunities to gain leadership experience. Whether through our Student President Team, running a Society or taking the initiative in charity activities and events.
Student President Team
Our Student President Team has four committees run by 6th Form students. The team is selected each year through a hustings event and interviews with senior staff.
They raise funds and awareness for charities, promote stewardship of the 6th Form, mentor Senior and Junior School pupils and arrange social events.
views from a past student president
One of our past Presidents is Cecily Polonsky.
Cecily was responsible for representing the student voice to senior staff, which includes making occasional presentations to the Senior Management Team of the Foundation.
Here is a short interview with Cecily:
Describe a couple of things you would want to make sure people knew about the 6th Form.
The college is a very supportive and friendly environment, in which all the students are encouraged to develop their interests and talents. The staff are deeply committed and are happy to make themselves available any time they are needed.
Where did you study before you came to the 6th Form?
I studied at the Stephen Perse Senior School.
What subjects do you do?
My A Level subjects are Spanish, Latin, History and Mathematics.
Why did you choose the Stephen Perse 6th Form?
Of all the 6th Form experiences available in Cambridge, Stephen Perse felt the most congenial for academic development, extra-curricular activities and social life. After a year, I can vouch that this is the case!
What have you been involved in here so far?
So far, I've been in the annual 6th Form Drama production (directed by one of my peers), compered a student Cabaret, organised guest speaker events, started a Latin Society, been on school trips to Cuba and Berlin, participated as part of an SPSFC team in the national Model United Nations in Bath, played the role of barrister in a mock trial at Cambridge County Court, slept rough in aid of a local charity for homeless young women. There's so much on offer that I've been able to do so much!
Why did you choose A Level or IB?
I was actually an IB student until three days before school started. I had been drawn to IB as it offered such a wide range of topics and didn't force me into eliminating certain subjects. However, I was finally swayed to study A Levels as the actual content of the courses in my favourite subjects suited my interests more.
What do you hope to achieve?
I'm applying to universities in the US because I still don't feel ready to limit my studies to one subject however I do hope to mostly focus on Classics or Theology.
Cambridge Model United Nations
Cambridge's first ever high-school level Model United Nations (MUN) Conference took place at the Stephen Perse Foundation on 16-18 March 2018, welcoming international participants who tackled global issues through competitive debate.
The Secretariat was made up of Stephen Perse 6th Form students and they prepared every aspect of the conference, from logistics of accommodation to policy areas, promotion, budget and travel.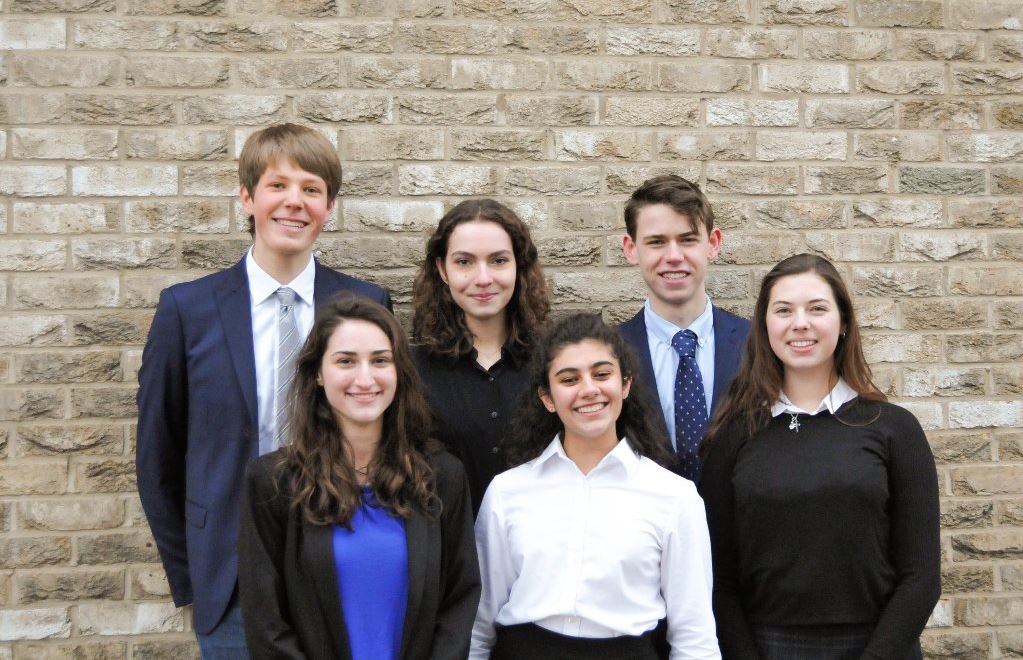 "My main hope for this conference is that it unites people from different backgrounds in order to foster a generation that remains open and respectful to everyone; one that is always willing to learn from the experiences of others. In a globalised world, I believe it is crucial that we learn to communicate and compromise, hence I consider MUN debates to be exceptionally worthwhile for young adults like ourselves."
School Link
We are closely connected to the other schools in the Foundation and have a range of activities that cross over to the Senior School and even the Junior School.This might be in running a lunchtime club or society, or it could be in our SteP Out outreach work with schools in the local community.
Events Committee
Our Events Committee organises our student induction, including the start of year formal dinner (held in Girton College and St John's College in previous years).
Events committee members always have an eye for a social opportunity!