We are always sad to hear about alumni who have passed away. Here are some announcements of bereavements from members of our valued community.
2019
Miss Margaret Flemington (at SPF 1941-1952) passed away on Sunday 10 November.
Margaret was a regular attendee of our alumni reunions, pictured here, centre, from the group picture from the 2011 alumni reunion.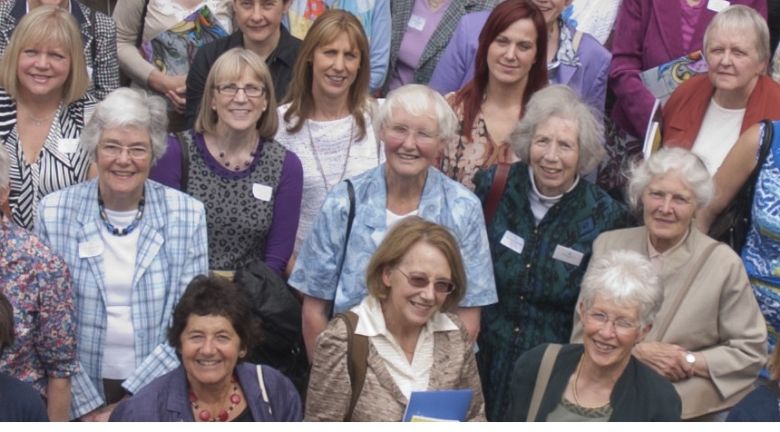 Margaret was good friends with alumna Shirley Prescott (nee Drake, left SPF 1951) who passed away in summer 2018, and when Margaret retired she was Head of Classics at North London Collegiate School, before returning to Cambridge, where she gave extra lessons in classics to students, including our own alumni. Margaret was also good friends with former teacher and Deputy Head, Margaret Chamberlain.
There will be a service at The Wesley Church where Margaret was a much loved member. One of our alumni sent in a wonderful memory of her:
" I knew Margaret well as she helped me with some extra lessons during my Latin A-Level. I used to see her around town and we would always stop to chat and catch up.
Last time I saw her was a couple of years ago near Great St Mary's. She was cycling through the snow and we chatted. She had been very inventive as she did not have any wellington boots so she had tied plastic bags over her shoes and up her legs! She was incredibly astute, intelligent, and a caring lady and always sent me a Christmas card. She leaves behind a brother who I don't think lives in Cambridge as she used to travel to see him at Christmas."
Doris Moritz (at SPF 1939-1941) passed away on November 5th, 2019, and her family updated us. Doris was interviewed for our Alumni Newsletter in 2012 and said , "While I was not directly a Holocaust survivor, I arrived in Cambridge in April 1939 on a Kindertransport. Miss S.M Rickard, an ex Persean, took my sister and myself into her home. She saw to it that we were properly equipped with regard to the school uniform. Needless to say my first term was very hard, without any English. I have found my reports and the first one mentions that I must not despair, if I cannot understand everything. I have always been most grateful for the education I received at Perse Girls."
Her funeral will be held on 20th November at 2pm at Thornhill Crematorium (Wenallt) Thornhill Rd, Cardiff CF14 9UA.
Refreshments will be served afterwards at New House Country Hotel, Thornhill Rd, Cardiff, Caerphilly CF14 9UA.
Prayers will be held at 8pm on 21st November 2019 at 27 Mostyn Road, London SW19 3LL.
Caroline Edwards (née Berkeley, at SPF to 1958), died earlier this year, and we have been notified by her classmate, Kate Varney (nee Leavis) who was the OPG Hon Sec for many years. Caroline had lived in Kilve, Somerset, for a long time. She did go up from school to Cambridge - Newnham College I think. Her older sister, Leonora Berkeley, who joined the school in the 6th form and was one of the students in the opening year of the new women's college, New Hall (now Murray College) died in 2002, and her photo appears in the National Portrait Gallery collection here.
Rita Pankhurst (nee Eindhorn,) at SPF 1938-45, passed away on 30 May aged 91, having spent much of her life and work in Ethiopia. Her full obituary can be read here.
Heather Dixon (nee Spittle), passed away on 15 December 2018, at the age of 90. She was born in 1928 and attended the school during the 1940s. We were notified by her daughter Ruth was also an alumna, 1967-1977.
Helen Thacker (at SPF 1927-37) died on 16 March 2019, aged almost 101. Her niece, Annie Kilby notified us, and her mother Margaret also attended the school.
Genesta Marjorie Harris, (nee Smale, at SPF 1927-34), died on 18 February 2019, at the age of 102.
Cilla Matthews (nee Wrighton) died on 12 March 2019. A full obituary has been provided by Julia Orford, on request by email.
Cilla was a pioneer in the understanding of coeliac disease, who went on to be ordained as one of this country's first female priests. Francilla Lacey Wrighton was born in Kenilworth in 1937. To escape the blitz around Coventry, her family moved to Cambridge where Cilla lived for the rest of her childhood. She attended the Perse School for Girls, where she developed a passion for history that remained with her. After school, she went to the Battersea College of Domestic Science where she studied catering, before undertaking a course in dietetics at Kings College Hospital. She met John Matthews in 1959 at a Proms concert, and they were married in Shalford Parish Church, near Guildford, in 1961. They moved to Bromley in 1963 when she was expecting their first child, and remained in the area for the rest of their lives.
Mary Marshall (nee Blyth, at SPF 1963-70) passed away on 14 December 2018, at the age of 66. Having studied French and Music at A-level she went on to train as a librarian and worked in Chiswick for many years. She enjoyed playing the clarinet and singing in choirs while at the school and went on to sing in London choirs with great dedication and enthusiasm. She was also an avid family historian. One of her schoolfriends, Margaret Whiteway, came to her funeral at Mortlake Crematorium in January 2019. Mary leaves a husband, James Marshall, whom she married in 2012, two sisters (Anne and Gillian) and a brother (Robert).
2018
Shirley Prescott (née Drake, at SPF 1945-50) was born in Cambridge on 20th December 1934 and after
leaving school worked at Lloyds Bank until 1960 when she married a farmer, Gerald Kent, with
whom she had three children, Heather, Alison and Andrew. After over 20 years they divorced and
she subsequently married in 1983 Malcolm Prescott, a Methodist Army Chaplain with whom she
celebrated their Silver Wedding. He was a Queen's Chaplain and they had an extremely happy life
together until he died in 2010. Shirley was very active in the Women's Institute having been
President of the Polstead, Suffolk, WI on four occasions, two as Mrs Kent and two as Mrs Prescott
and she represented them at a Buckingham Palace Garden Party. She was also very keen and good
at quilting. Indeed illustrations of her work were published in several books written by Lynne
Edwards and one of Shirley's quilts was on the cover of Today's Quilter magazine in 2016. For many years she led lessons in Yoga and latterly she participated in these classes. Throughout her life she
was an active worshipper, sometimes at the Methodist Church and sometimes at the Anglican one.
She was in good health and having attended church on the Sunday morning, went home not feeling
well, was admitted to hospital and died there on the Monday morning, 18 June 2018. The large
village church at Boxford was crowded on the lovely sunny day of Shirley's Thanksgiving Service. She was 83 years old when she died. She leaves three children and their families together with her
brother Kenneth.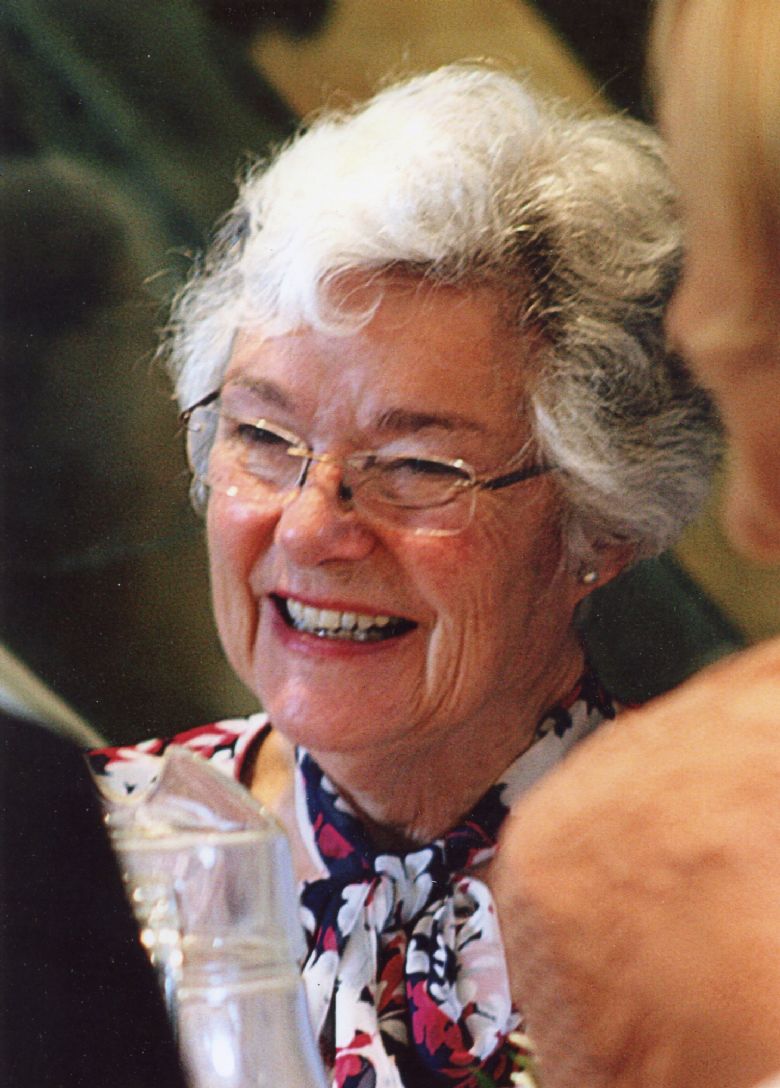 Joan Benner (nee Draper, at SPF 1936-44). Joan passed away peacefully on 7th September 2018 at Rush Court Nursing Home in Wallingford, where she had been resident since mid 2016.
Sophie Barnes (at SPF 1974-1984) from Form 1 to Upper Sixth, died this summer from Cystic Fibrosis. Her classmate Kate Lea is running a Half Marathon to raise money for the Cystic Fibrosis Trust, more information is here.
Jessica Bianca Lee McMahon (at SPF 1978-85) died suddenly at Addenbrooke's Hospital on Sunday 5th August aged 51 years. Dearly beloved daughter of Jennifer and sister of Geoffrey. Press announcement here.
Belinda Mary Corner (nee Shaw, at school 1951 - 1961), died March 28 2018 aged 74 in Melbourne, Australia. Beloved wife of John, daughter of the late Michael and Mary Shaw of Cambridge, mother of Andrew and Katie, grandmother of six. We were updated by both her husband John, and also her best friend Catherine Sharp who has her address should anyone wish to write.
2017
Lizzie Treip (left SPF 1977) died on 27th October 2017. Her husband, Rowan Moore updated the school in September 2018.
Hilary McDonald (nee Brookes, at school to 1967) died on December 22nd. Her brother contacted Mary Wells to inform the funeral will be at 13.45 at Norse Road Crematorium, Bedford on Thursday January 18 2018.
G Jane Williams (at SPF 1945-1955) passed away aged 79, in December 2017, and we were updated by her niece Anna Page. Jane became Superintendent with Strathclyde Police after serving with the Met.
Joan Chibnall died on 13 July 2017. Joan was born on 11 October 1933, and attended school from around 1946 to 1952. She read geography at Bristol University, subsequently taking a master's degree at UCL, and then became a librarian, spending most of her career as geography librarian and map curator at Sheffield University. Her sister Mary Chibnall updated us.
Pamela Hertl (nee Rider) passed away April 29, 2017 aged 79. After leaving school, Pamela became a nurse, and moved with her husband to the United States. Christine Rider was in touch and updated us.
Rosalie V Clinton (nee Woodman) died on July 24 2017 in Norwich. She was bridesmaid to (Jennifer) Ruth Potts (nee Chambers, at SPF 1944-53).
Catherine Sutton (left SPF 1967) passed away in January 2017. Her sister Sally Sutton, also at school, passed on the news. Catherine had lived in the USA for many years and died suddenly. Her group of classmates are coming together for their 50th anniversary reunion at Senior School in 2017.
Janet Dorothy Parker (nee Taylor, at SPF 1944-49) passed away recently aged 84.
2016
Joy Everitt (nee Taylor, known as Frances at school, left SPF 1942) passed away peacefully on 23rd December 2016. She was 92 and fairly active until last summer. She lived and taught in Cambridge until 1987 when she retired and they (with husband Kelland) moved to the Isle of Wight where they had a long, happy and active retirement.
Former teacher Anna Newton (taught at SPF 1965-1985), passed away suddenly but peacefully, aged 92, at her home in Linton on Monday 11 July 2016. Dearly loved wife of the late Kenneth, she will be greatly missed by her family and all her many friends. The funeral was a private cremation followed by a celebration of her life at The Friends' Meeting House in Jesus Lane, attended by former staff Rosemary Tice and Brigitte Pearson.
Brenda Wood (nee Harris, at SPF 1944-48) died on 31 March 2016.
Greta Winifred Wakefield (at SPF 1936-41), passed away peacefully in her Cambridge home on June 30, 2016 at age 91.
Joan Winter (nee Eley, at SPF 1941-44), passed away in December 2016.
2015
Julia Wheatcroft (nee Smith, Group 43) twin sister of Sarah, died peacefully at home in Cambridge on 28 January 2015. Full obituary here.
Ann Blum (at school 1963-4) – Full obituary here.
Ying Tao (left school 2007) died on 23 June 2015. More information from the BBC here.
Mary Earle (nee York Moore, Group 19), died in May 2015. She later lived in West Sussex.
Ann King (former staff). Full obituary here.
2014
Norah Katharine Spence (nee Smart, Group 11) died aged 98 in March 2014.
Mary Cowles (nee Clarkson, at school 1942-47) died in November 2014.
Ruth Marian Chippindale (nee Stevenson), born 13 Jan 1914, died 6 May 2013 age 99.
Heather Bamber (née Devenish, left school 1962). Full obituary here.
Heather Cubitt (former staff). Full obituary here.
2013
Janet Mayor (taught at the school from 1970-1990), died in November 2013 after a long battle with Alzheimer's. Janet, as Head of Physics and Head of Science, was also Deputy Head for 3 years.
Audrey Hales (Group 16) died in March 2013.
Velia Cook (nee Cope, Group 31) died on 31 Jan 2013.