Published on 09/03/20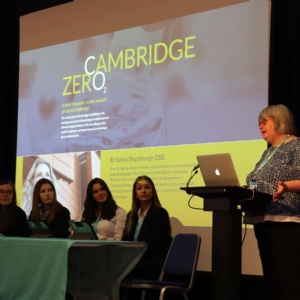 "Climate emergency" was proclaimed by the Oxford Dictionary as Word of the Year in 2019.
The winner of the annual word fest is judged to reflect "the ethos, mood, or preoccupations
of that particular year". It will be interesting to see whether "eco anxiety", the inevitable
concomitant of climate emergence, emerges as the word of 2020.
Ever since Greta Thunberg embarked on her personal odyssey back in August 2018, with
her now iconic weekly vigil outside the Swedish Parliament demanding action on climate
change, young people across the world have been mobilised to demand changes to how we
live. They see their future jeopardised by climate change and believe that the world must
focus on action now if a dystopian future is to be, if not avoided, certainly significantly
mitigated.
Such is the concern of young people that psychologists are observing a significant increase
in this age group presenting as depressed because of eco anxiety. "Newsround", a BBC
programme targeted at young people, carried out a survey with 2,000 eight to 16-year-olds.
When asked about their futures, most children were worried about the impact that climate
change will have on them when they're older; alarmingly one in five have even had a bad
dream about it. Particularly concerning is that nearly two thirds believe leaders aren't
listening enough to young people's views.
This generational sense of injustice has of course been given prominence by Greta and her
Friday school strikes' movement. Indeed, this young leader is so totemic that she has been
given a platform to speak across the world including at the United Nations and the European
Union. In a Stephen Perse Podcast conversation with Dr Emily Shuckburgh,
Climate Scientist, Fellow of Darwin College Cambridge and Director of Cambridge Zero, we
discussed the sense that "grown-ups" had let young people down. Dr Shuckburgh was robust in her response. The clamour for action, she believes, is a clarion call for us all and we must seize the opportunities offered in the 2020s to not only find ways to live better more sustainable lives but also begin to repair our climate. Only through empowering and engaging our young, offering them hope, expertise and inspiration in equal doses, shall we enjoy a better future for everyone.
Who better than Sir David Attenborough, who alongside Greta Thunberg, has done so much
to alert the world to the threat to our planet, to take a lead on this? On 25th April at the David
Attenborough building in Cambridge, Sir David, along with a smorgasbord of participants, will
be offering reasons for optimism at the Earth Optimism 2020 event held in association with
the Smithsonian, Washington D.C.

With a clear focus on the many successes in the world of conservation, this event will
demonstrate what has been achieved and can be achieved: there is hope and a multitude of
reasons to be optimistic.
Given empowerment is critical to combatting eco anxiety, I am very proud that our annual
Model United Nations conference chose this this year to debate Working towards a
sustainable world. Against the backdrop of the Cambridge Zero initiative and channelling the
spirit of both Greta Thunberg and Sir David Attenborough, this gathering of young people
from across the world to debate the greatest challenge facing humanity, is of itself a reason
to be optimistic.