Published on 06/07/18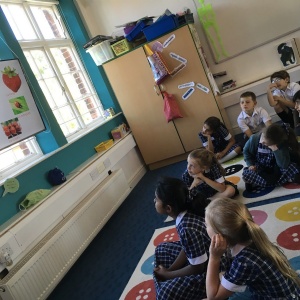 The sun shone as Junior School Year 3 joined us at Dame B's for our annual Language Collaboration Day.
This year our language was Spanish and we had a busy day ahead. After a snack and short introduction we were off on our colour hunt. We walked around the grounds spotting nouns of all colours, rojo, amarillo, verde, azul.....and then read and performed some colour poems. We looked at the colours and patterns in moorish tiles and then using our newly acquired dictionary skills wrote our own colour poems on to tiles and decorated them.
Paella and tortilla were on the lunch menu and we finished the afternoon with a quiz. According to one group of Year 3s as they left, the day was ¡fantástico!