Published on 02/03/20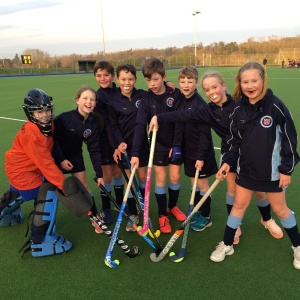 It's been another successful month for our sporting teams across Stephen Perse.
Dame Bradbury's
On Tuesday 28 and Wednesday 29 January, Dame Bradbury's hosted the Uttlesford School Sport Partnership Saffron Walden Area Indoor Athletics Competition. It was a fantastic event with lots of schools in the community coming together for some fast paced athletic action with lots of cheering and noise reverberating around the Rainey Hall. The Year 3 & 4 competition took place on Tuesday and Dame Bradbury's green team took the honours. Pupils in Year 5 & 6 took part on Wednesday with Dame Bradbury's green team again securing the victory.
The District round of the USSP indoor athletics competition took place at the Lord Butler Leisure Centre with Dame Bradbury's represented by a Year 3 & 4 and Year 5 & 6 team. The Year 3 & 4 team finished in second place and can be very proud of their achievement. The Year 5 & 6 team took the District title in great style and will now represent Uttlesford at the Essex county finals at Southend in March.
On the netball court, the U9 A and B teams travelled to play against Bishop's Stortford College. The A team drew a thrilling game 5-5 whilst the B team showed great determination in a 5-0 loss. The U10 A and B netball teams recorded two fantastic results at home to King's Ely with the A team winning 16-2 and the B team 2-1.
We have had continued success at the local schools mixed hockey league with the U11A team recording wins against St Thomas More and Clavering whilst the B team are still unbeaten after two rounds with the most recent match ending in a draw against St Thomas More.
The boys U11A hockey team recorded an excellent 4-3 win away at Felsted in an enthralling game whilst the B team came up against a strong Felsted side and lost 4-0. The U9 boys hockey teams have played two fixtures over the last few weeks. The A team beat both Rosedale House 5-0 and King's College School 7-1. The B team drew 2-2 against Rosedale House and battled very hard in a 1-0 defeat to King's College School on a bitterly cold afternoon.
Rosedale House and Madingley
Boys Hockey
U11A - the boys represented the school at the Cambridge IAPS tournament and played exceptionally well. Joesph M in particular had a fantastic day in goal, making plenty of great saves.
U11B - Dame Bradbury's
U11B had a great start to the spring term with a fantastic 4-0 win showcasing an all round team performance.
U11B - Bishop Stortford
It was a difficult afternoon playing a very strong Bishop Stortford team, the stand out performance was Louis who made some excellent saves in goal.
U9s
All boys in Year 4 participated in a 3v3 festival, organised by Kimbolton School. The festival was a great introduction to match scenarios for the pupils as they look to build towards 7 a side hockey. The boys all had a great time with lots of positive experiences. Some tired legs at the end of the non stop hockey festival!
Netball
U11
All the Year 6s have been working really hard to improve their competitive netball this half term. We have had three teams participate against Dame Bradbury's, King's Ely and Fairstead. The matches have been a great experience for all the girls and we are looking forward to more games after half term.
U10
Well done Year 5 for showing commitment to training and matches this half term. We have been developing our understanding of game play and working on our attacking movement. Many Year 5s have impressed us with their competitive spirit and I'm sure we will see some great results after half term.
U9
The Year 4s have been growing in confidence week after week. Their understanding of positions and team play is improving all of the time and it is great to see them enjoying their netball. Keep going girls!
Senior School
Boys Hockey teams
The boys hockey teams have continued with their hockey fixtures during the term, showing progress as we move through the season. Both the U13 and U12 hockey teams represented the school extremely well at their recent county tournaments. In a highly competitive tournament the U13 team finished second in their pool, with a record of played four, won three and lost one. This took them into a top four classification pool, with two of these teams progressing through to the regional tournament. Despite going into the classification matches with great confidence the team were unable to secure the points needed and ended the tournament in fourth place. This was the highest finish position achieved by any Stephen Perse boys hockey team at a county tournament.
With the U13s setting the example, the U12 hockey team went into their county tournament looking to replicate their success. In a round robin format the U12 boys played with great determination and energy and from their six matches ended the tournament with a record of two wins, two draws and two losses. This also gave them a fourth place finish.