Published on 13/08/20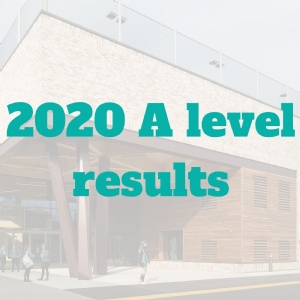 Students in the Sixth Form at the Stephen Perse Foundation have achieved outstanding
results in this year's A levels with 72% of grades awarded at A*-A. This compares particularly favourably with the national average of 27.9% achieving an A grade or higher.
These results continue a trend of excellence in the Sixth Form despite the extraordinary circumstances in a year without any formal examinations, instead replaced by a centre assessment grade for each subject, which has been through a process of moderation before being finalised and issued by the awarding bodies.
The Stephen Perse Sixth Form is distinctive in achieving exemplary A level results with students gaining places at the most prestigious UK and global universities to study challenging subjects across the broadest of disciplines alongside personal development and exceptional student wellbeing.
Results highlights:
42% of grades awarded at A*
72% of grades awarded at A*- A
93% of grades awarded at A*- B
100% of grades awarded at A*-C
26% of student achieved at least three subjects at A*
61% of students achieved at least three subjects at A*or A
16% of students who applied through UCAS in 2020 have places at Oxbridge
7% of students going on to study Medicine
11% of students going on to study Geography
9% of students going on to study Law
Outstanding results include students who gained four A* grades, namely Michelle who will study English at York and Charlotte going to study Natural Sciences at Cambridge University, amongst others. Other student successes from today include: Studying Physics at Oxford University; Molecular Bioengineering at Imperial College London; Economics at Durham; Medicine at University College Dublin and University of East Anglia; Law at Bristol; Virtual Reality at University of the Arts London and Real Estate at Reading.
Spencer Pinkus, Head of Sixth Form said: "We are very proud of our students' achievements and the resilience that they have shown in these extraordinary times. We would like to take this opportunity to wish them every success as they progress to their higher education and future career paths."
Principal Richard Girvan said: "The results awarded to this year's year 13 in most cases appear to have been fair, enabling the overwhelming majority of our students to celebrate a set of results that reflect their intellectual ability and the huge efforts they have made over the course of the last two years. However, it is also clear that a (fortunately very small) number of students have been let down by the algorithm used by the awarding bodies. Where this is the case we will support them in whatever way we need to ensure they receive a just outcome."
Richard continues: "The immediate focus of my colleagues and I will be to support those students, but we will take time when we can to reflect on, and to celebrate, the incredible academic achievements of all, particularly in the context of all they have had to cope with this year. I will also take time to properly acknowledge and express huge gratitude to their brilliant teachers and the rest of our incredible staff, who have inspired, guided and supported them to achieve, including providing an outstanding remote learning programme from March through to July. I know that the students themselves hugely appreciate the teaching they received and, in turn, our staff and I wish them all the very best for what we
expect will be a brilliant future."
Following the cancellation of formal exams by the Secretary of State for Education back in April to help fight the spread of Coronavirus (COVID-19), students at both GCSE and A level have received a centre assessment grade for each of their subjects. This is the grade they would be most likely to have achieved if they had sat their exams in the normal way and completed any non-exam assessment based on classwork, non-exam assessment, the results of assignments or mock exams and previous examination results. The centre assessed grades were then put through a process of moderation by the awarding bodies, who were responsible for issuing a final grade.