Published on 23/06/21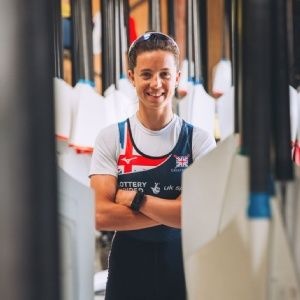 We are delighted to see that alumna Imogen Grant, who left Stephen Perse in 2012, has been selected for the GB Rowing Team for this summer's Tokyo 2021 Olympic Games.
Imogen started rowing whilst studying medicine at Trinity College and as part of the Cambridge University Women's BC Blue Boat she won both the 2017 and 2018 boat races and set a course record. In the past Imogen has competed in the lightweight women's single at the 2018 World Rowing U23 Championships in Poznan, taking a dominant gold by nearly two lengths, and in 2019 she won a bronze in the lightweight women's double at the World Rowing Championships in Linz, qualifying the boat for the Olympic Games.
Last year Imogen returned to Stephen Perse, albeit virtually, to talk to our sports students about her career and how she balances her training regime whilst continuing to study. One of our students commented "After Imogen spoke about her sporting career I was left inspired and in awe of her amazing journey. From the talk I took away a few valuable lessons: The first being with hard work and a good attitude anything is possible. Imogen also taught me to take opportunities and make the most of them, it's never too late to find what you love and enjoy and be successful at it, work hard and persevere through all the challenges and trials. Going into the new netball season I'm ready to work hard and use lots of Imogen's advice and hopefully get far and improve myself".
We wish Imogen and the rest of the Team GB Rowing Team the best of luck in Tokyo - we'll all be watching!