Published on 25/05/22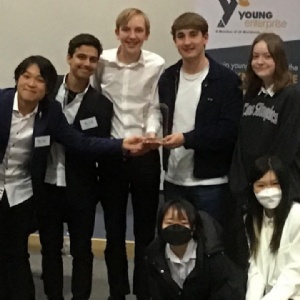 Young Enterprise (YE) is the leading charity empowering young people to develop personal and business skills.
This year students in Year 12 formed their own company: MySelf - a social enterprise with a mission. Deputy MD Amogh, sums up their experience so far.
MySelf is a unique social enterprise that aims to promote period awareness. We provide menstruators with a personalised care package. The MySelf movement is driven by our website and social media presence which is central to our mission of dismissing period stigma. We decided very early in the Young Enterprise journey that we wanted to make a contribution towards tackling a significant global issue through our business rather than using a traditional profit-making business model. Period stigma was agreed to be a huge social problem, even in 2022. It was generally felt that menstruators needed greater support in dealing with their periods and related issues, and the whole subject needed to be better 'opened up' for discussion with typically reserved males.
At the current stage of the company, our product is a menstrual care package containing pads, tampons, and sanitary products but also chocolates, teas and hot drinks as supplementary care products during a period. We truly believe that the product is an embodiment of the MySelf mission to destigmatise periods and encourage conversations about menstrual cycles in order to ensure that a taboo does not prevent people from getting the support that they deserve.
The MySelf team received the prestigious award for Company of the Year for the Cambridgeshire, Norfolk and Suffolk area at the local finals, held in the Business Faculty at the University of East Anglia in Norwich. We went through three stages of assessment including producing a company report, answering questions in a formal interview with judges and finally describing the essence of the business in a presentation to all the participants and judges at the event. The judges decided to present us with the Best Company Award for the innovation, social motive and bold nature of our business offering. We are extremely proud of our achievement and we look forward to improving our presentation for the regional finals later in May. We hope to go all the way to the national final, then on to the European final.