Published on 05/01/23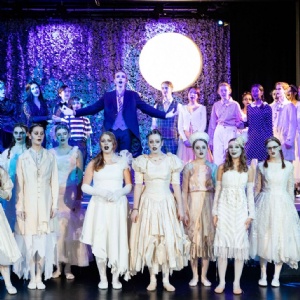 Book by Marshall Brickman and Rick Elice, music and lyrics by Andrew Lippa and orchestrations by Larry Hochman.
Our biennial musical offers a fabulous opportunity for collaboration between the music and drama departments. Last term's production of 'The Addams Family' featured a live band and a cast of 32 students from Years 10-12. Helene Barrell directed, assisted by Rebecca Jones, whilst Matthew Rudd took on the role of Musical Director. Choreography was by regular contributor Karen Revill of The Maple Dance Academy. Charlotte Cooper was our lighting designer and sound engineer, with expert assistance from Jamie Tripp.
This production presented us with enormous scope for creativity behind the scenes and a large number of staff and students were involved in the process of creating the onstage world of the Addams Family. The set, props and costumes were all made especially for this production during Sixth Form theatre backstage and tech enrichment classes, with additional assistance from the design and engineering department, drama department staff and from Senior School Backstage Club and classes.
A large number of wedding dresses and other white or cream items of clothing were recycled, adapted and distressed to create costumes for the Ancestors and Dancestors; instruments of torture were devised and assembled; gravestones were carved and painted to appear aged and weathered; additional items were sourced to add elements of surprise, such as the glowing moons and the coffin with a trap door for Thing to emerge through. Finally, makeup was designed and applied by a team of Year 11-13 students.
The Addams Family played to full houses for three stunning performances. The extremely talented cast worked unbelievably hard throughout the term to achieve an exceptional standard of performance. Ms Barrell would like to take this opportunity to thank all of the performers and musicians; we would also like to say a special thank you to the student technical and backstage crew, many of whom are in Year 13 and for whom this will be the last big show that they work on before leaving Stephen Perse.