Published on 11/01/23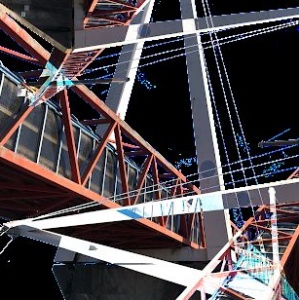 Lily R from last year's Year 13 Art A Level had work selected for the Arts Society 6th Form Art Exhibition, held at the Michaelhouse cafe for a two week period in October 2022, organised by The Arts Society Cantab and Granta.
The Cambridge Drawing Society awarded a Highly Commended for Lily's Internal External artwork submission. The artwork had been part of a series of preparatory studies for her Internal External coursework component. It was a composition based on the Mill Road footbridge. She used Photoshop to digitally manipulate and experiment with composition using her own photography.
The judges commented on how Lily "made playful use of an interesting and colourful local landmark. The interlocking of the repeated elements is clever and combines with the dynamic composition to move the subject into abstraction".
Lily received a certificate and prize for her Highly Commended. Congratulations to Lily on her success.