Published on 18/01/23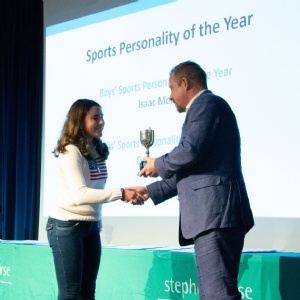 It was lovely to see so many of last year's Year 11 cohort return to receive their sports awards.
It was a wonderful evening where we were able to thank all who attended the many sports clubs, training and fixtures during their time at Stephen Perse. Their commitment, hard work and support of each other really paid off and this was evident in the many successes we had at matches and at tournaments. A full list of the awards can be seen below with a note from their teachers.
Hockey
Excellence in Girls Hockey
Izzy W
Izzy is very modest in her ability. She strengthens any team in which she plays for and can play in a number of different positions. Her understanding of the game is outstanding and she is able to control and create team attacks with instinctive passing and awareness.
Progress in Girls Hockey
Lara C
Lara has a bright and bubbly personality and has always turned up to training sessions and matches with a huge smile on her face. Her willingness to improve upon both technical and tactical skills has been amazing to see.
Excellence in Boys Hockey
Oliver N
Olly has progressed well over his time at the school. He has always been willing to stay after sessions to work on technical skills to improve his game. His commitment to win has also motivated the team and he has always led on the pitch, especially with his 1-1 elimination skills.
Progress in Boys Hockey
Barney G
Barney has been extremely committed to boys hockey within the school. He always works hard in training and matches and has been willing to take on board feedback to improve upon his individual skills. He has now become a prominent figure up front and is a threat in the D.
Netball
Excellence in Netball
Caitlin W
Caitlin shone at a very young age. Determined, focused and hard-working, it was no surprise she became the obvious choice of captain to lead her team. Unassuming, quiet, yet confident, this athlete led her team to two county school victories and on both occasions led her team to regionals. She has also played up a year at the world school games and at county schools.
Progress in Netball
Olivia G
Olivia has been an absolute pleasure to watch over the years. Starting off very inexperienced, this hard working athlete strived to work her way up through the teams over the years to secure a place in the A team. Her journey has been a strong example of how hard work pays off.
Football
Excellence in Football
Freddie P
Freddie is somebody who combines outstanding technical ability with a bravery that belies his stature. He developed the ability to use his body to protect the ball which made him a far more effective player. He is adept with both feet, can beat a defender and his passing ability is superb. We wanted to save him as our main contributor in attack but he was also always willing to work defensively. He was also consistently our top scorer from the number 10 position.
Progress in Football
Felix H
Felix could always be relied upon to defend superbly and was able to contribute effectively in attack with his good passing ability. He has worked so hard and made excellent progress over the last couple of years.
Cricket
Excellence in Girls Cricket
Sirisha G
Sirisha is an outstanding player for her age. She has a great attitude, works incredibly hard on her batting and is technically a very correct player. She enjoys a challenge and has taken part in boys matches representing the schools 1st XI last season. She has already represented Cambridgeshire at U16 and U18 level and plays at the highest level of club cricket in the Women's East Anglian Premier League. Recently, she was selected in the Sunrisers Emerging Player Programme which includes the best talent from across London and the East.
Progress in Girls Cricket
Electra R
Electra has always had an excellent attitude and a willingness to listen and improve. She never hesitated from simply 'having a go' and always did it with a smile on her face. Her progression has been so pleasing.
Excellence in Boys Cricket
Dylan B
Dylan is very committed and works hard on all aspects of his game. He possesses excellent knowledge and has a very good understanding of what to do tactically on the pitch. In matches he is an effective batsman with the ability to make big scores and he is an accomplished and accurate swing bowler; he continues to develop his game by playing men's club cricket and was selected to represent Cambridgeshire at U16 level which is a reward for all the hard work he puts in.
Progress in Boys Cricket
David T
David has really improved his game over the past couple of seasons. He is a real student of the game and has worked hard on the technical aspects and consistency of his bowling. He also enjoys fielding which is a rare trait in a young cricketer adding value to any team he plays for. Last year he was selected as a squad player for the Cambridgeshire U16s and he is becoming a regular choice at his clubs first team.
Contribution Awards
Contribution to School Sport
Sirisha G
Sirisha has played in the A team for all of our major sports, and she has done this with total commitment. Whenever she has represented the school she has been a supportive team mate and her improvement over the course of Senior School has been outstanding. This athlete has also played at an exceptionally high standard, representing the school at County and Regional tournaments.
Contribution to Girls Senior School Teams
Daisy G
Daisy has always committed to training and has always been willing to attend any fixture when asked, even at short notice. Her hard working personality ensured that she progressed impressively over her school years and this was particularly noticeable with her performances in her last school year.
Contribution to Boys Senior School Teams
David T
David has shown fantastic commitment and dedication during his years at Stephen Perse. He has regularly represented the school in A teams for cricket and hockey. He is very coachable and takes on board any advice that is given to him. His dedication to attend training sessions has paid off in improving his technical ability and game awareness in both his major sports and he continues to develop his leadership qualities.
International
Elite (International) Sports
Joint winners
Lucy S
Lucy is a truly talented sportswoman. She battled back from an awful injury at a vital time in her footballing development to represent her country for the England Independent Schools team within two years. She is an inspiration to the next generation of very talented female footballers in our younger years.
Caitlin W
Caitlin is a remarkable young athlete who has demonstrated amazing talent. She is extremely coachable and is always open to trying new ideas and positions. It has been exciting to watch her route through the netball pathway and now witness her playing for the Ireland U17 squad.
Sports Personalities of the Year
Connie T
Connie has given her best throughout her time at the school. She has been consistent in her dedication to improving and to achieving the high standards that she has reached. She is supportive to all who play with her, and is always cheerful in her approach. She has represented the school across many sports. She has also represented Bury Performance Centre which is part of the England Hockey pathway. She has been a County and Regional level Track and Field, and cross country athlete and she has also represented the school in Regional Netball tournaments playing for the team above her own age group. She is so modest about these achievements and has been a pleasure to teach.
Isaac M
Isaac has had his fair share of injuries over the last couple of years but his talent is unquestionable and has been since he joined the school as a young, enthusiastic and extremely energetic individual. His achievements are impressive and they only touch the surface of what is truly possible by this incredible athlete. This year he came 2nd at the U17 National Cross Country Championships. He has the 11th all-time fastest 1500m track time at U13 level. He is the current U17 Cambridgeshire Cross Country Champion. The County and District Schools Cross Country Champion and he was part of the U17 National Cross Country Relay team who were crowned champions in 2021. This athlete has a wealth of talent and he is only at the beginning of his journey; he has a very promising future in his sport.