Published on 03/01/23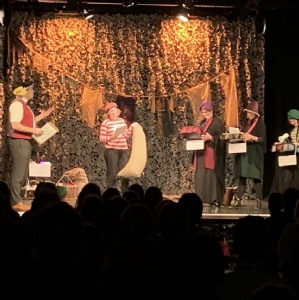 For the second year in a row, an intrepid bunch of teachers and staff members took to the stage to perform a staged reading of a pantomime in order to raise funds for The Big Give Campaign.
This year's offering was an abridged adaptation of 'Aladdin': there were some excellent comedy performances from all, including Dr C Bouché as Widow Twanky, Miss R Jones and Mr T Peglar as the hapless villains, Ms K Albone as the Genie and of course, the happy couple of Mr P Howarth as Aladdin and Ms R Edmunds as Princess Yasmin.
A large audience of students from all year groups attended this special after school event, raising an impressive £437.99 for The Big Give Campaign.
The staff pantomime was organised and directed by a group of Year 13 students - we are extremely grateful for all their hard work and for their commitment to making this event such a success.