Published on 13/03/23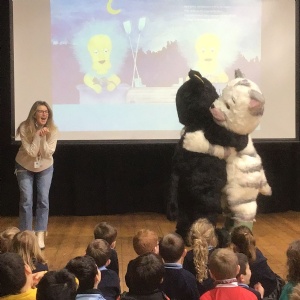 Dame Bradbury's Year 1 pupils had a very exciting 'World Book Day' collaboration event on Wednesday 8 March.
To begin the day the children relished sharing their favourite books from home with their peers. This was followed by welcoming their Junior School Fitzwilliam Building Year 1 visitors to their classrooms and showing them around their learning environment. One Dame Bradbury's pupil mentioned how they loved making new friends with children from Junior School Fitzwilliam Building.
After lunch, the children were captivated by our special visitors, Laura Robson and Katherine Mann, the authors of the Fitz and Will books and listened with great interest to the readings of 'The Boat Race Adventure' and 'The Graduation Adventure'.
The highlight of the day for the children was most definitely the 'strictly dance off' between the two cuddly cats, Fitz and Will. The children remarked at the end of the show how they loved cuddling the cats and watching the cats dance.
Find out more about our Junior School Dame Bradbury's - Book a tour