Published on 17/05/23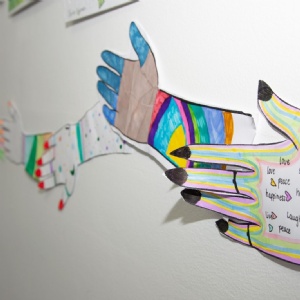 Following an idea put forward by Hannah S in a friendship group in Year 7, Year 8 decided to express their inter-connectedness by joining together personalised hands down the L block stairwell, the main thoroughfare for Years 7 and 8.
Each student was given a hand to decorate. Some chose to name their favourite footballers whilst others drew pictures of watches, henna patterns, the whole globe and many more creative ideas. These were then stuck onto the wall following the movement of the stairwell as a visual reminder of how all our separate ideas of ourselves are deeply interconnected and often, very similar. This was to celebrate the theme of 'Let's Connect' which underpinned this year's 'Children's Mental Health Week'.