Published on 22/03/17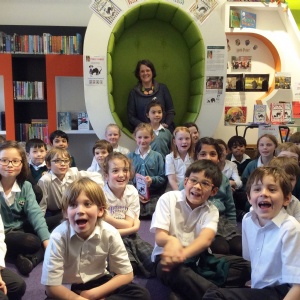 Alumna Polly Faber (left 1989) visited our Junior School this week for a reading and a talk about her series of children's books called 'Mango and Bambang'.
Polly has just written her fourth book of the series (to be published shortly), and our Junior School got to see a sneak preview of the very first copy, along with a reading from the latest in the series. Polly told the children all about her journey to becoming an author (she has also been a midwife), and asked everyone about their own experiences of writing stories. There was a lot of talk about unusual animals, and the tapir that features in her books, along with memories of when the author and alumna Philippa Pearce had visited the school when Polly was here.
Polly said 'I look back on my years at the Stephen Perse Foundation with great fondness and cherish the friendships I made there. I was fortunate to be taught by some inspirational women and self belief and an ability to argue a corner was certainly as much a part of the lessons I learned from them as their ostensible subjects. Those skills have stood me in good stead throughout all my "careers".
Coming back to our Junior School for lunch, Polly was pleased to see that 'Mince Cobbler' was no longer on the menu, and that children now have a choice of food as well as biscuits and watermelon for pudding ('They don't know they're born!' said Polly).
You can see more about Polly and her books here.