Published on 14/03/18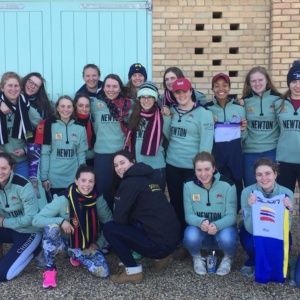 With three alumni on the Cambridge University Women's Boat Club (CUWBC) squad for 2018, our Junior School pupils took inspiration from a visit to their Goldie Boathouse and a chat to the Head Coach.
The official Boat Race squad is made up of student-athletes from 17 of the University of Cambridge Colleges and three of the squad are former students of the Stephen Perse Foundation. Millie Perrin, Imogen Grant and Larkin Sayre all went on to Colleges within the University of Cambridge, and competed in the March 2018 Boat Races against Oxford crews, coming out victorious!
As part of our Junior School History Week, a selected group of Y5-6 students went to visit CUWBC and find out more about the history of rowing in Cambridge.
Following a selection process, the fourteen chosen pupils climbed aboard a minibus to drive across Cambridge on a bright spring-like morning. Having arrived at the River Cam they were welcomed into the Cambridge University Goldie Boat House where the rowers, from both the Men's and Women's teams, train indoors. The boathouse used to house the old style wooden boats ready to go out on the river but nowadays the new purpose-built building in Ely houses the boats. However, Goldie is still vital as it provides a space in Cambridge for rowers to train on the ergos (indoor rowing machines) in the tank and lift weights. During their time at Goldie the children had the chance to have a go on the equipment available and we do seem to have sparked an interest in them for the future. Mr Millward even had a go!

Mrs Cassidy spoke to the pupils about the history of the Boat Club, which was founded in 1828 for the men and 1927 for the women. It was interesting to find out that in the early days women's rowing was non-competitive, they rowed in long skirts and were judged on their form not their speed! We discussed the changes that have occurred over the years including allowing the Women onto the Goldie site to join the Men. Rob Baker (CUWBC Head Coach) and James Lee (CUWBC coordinator) showed the children around the Boathouse. This included having biscuits in the President's Room and even discussing the fact that rowers eat over 4,000 calories a day when training. Sitting in a room full of plaques and memories, it would be amazing if those walls could speak, what stories they could tell!

The pupils were very excited to hear that three Stephen Perse Foundation alumnae are in the Women's squads this year and all of us watched at home from the comfort of our sofas on Saturday 24 March. Congrats to all the Light Blue boats!
'I really enjoyed the experience and learning all about the history and all the races that have happened.' Verity