Published on 08/08/22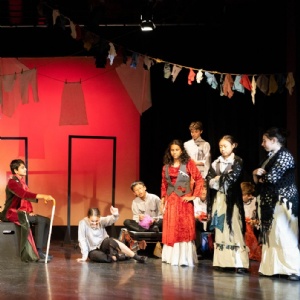 Our final production of the academic year was a dramatic retelling of Charles Dickens' epic tale 'Oliver Twist', adapted by Anya Reiss and performed by a cast of keen Year 8 students.
Mrs Deborah Foote's creative direction incorporated traditional folk songs sung by members of the cast, with live accompaniment by Year 9 student Lydia K on the guitar whilst Bullseye the dog was a puppet, manoeuvred around the stage by puppeteers.
Backstage clubs and enrichment classes have been extremely busy behind the scenes for several months, helping to create the visually striking and suitably Dickensian set, costumes and props. The overall set design featured handmade ragged bunting which was assembled by Year 8 backstage students. They then sewed sections of mini bunting from similar fabric which they used to customise the costumes of many of the poorer characters. Year 10 and 12 theatre enrichment students made sausages by stuffing wadding into pairs of tights, dismantled and reassembled a stuffed toy dog to enable manipulation of a puppet Bullseye covered in ragged patches, and helped to paint a realistic wood grain effect onto a (real!) coffin.
The Director's Note from the Programme of 'Oliver Twist':
"When Oliver Twist by Charles Dickens was first published in 1837, it gained instant attention because of the scandalous subject matter. It was one of the earliest known books to take on social issues, such as the impact of industrialisation and poverty in the nineteenth century. Sadly, we see parallels today, the difference being that there was no welfare state for Victorian children. Today's food banks were the local market and what you could steal. The exploitation of children in the County Lines mirrors the manipulation of the orphans by Fagin.
From the moment Dickens started to write, he tried to speak for the people and the people loved him for it, consequently his books have not been out of print since. Everyone who appears in Oliver Twist has depth of character, essential for the reader to fully immerse oneself into the story and also for live audiences to enjoy these colourful characters when played on stage. We hope you enjoyed Year 8's interpretation of Dickensian London, we think they have achieved really well negotiating these challenging times. Please cheer them on… and ask for more!"